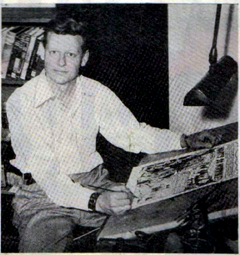 Graham Ingels, also known by his nickname "Ghastly" was an American comic book artist and painter. Born in 1915 on June the 7th, he became an artist for theater displays at age 16, and later moved onto illustrating pulp magazines, and then comic books.
In 1948, he began working for EC Comics, where he would go on to do most of the covers for Haunt of Fear, as well as most of the Old Witch stories, and gain a reputation and fan following for his fine detail, and horror art.
Ingels passed away in April of 1991.
This page contains original content that is unique to EC Comics Wiki. It is licensed under CC BY-SA 3.0.