Tales from the Crypt is a horror comic book originally published by EC Comics in the 1950s, producing 30 issues from 1950 to 1955. The main horror-host Ghoulunatic for Tales from the Crypt was/is of course, The Crypt-Keeper. The original run of the series was canceled in 1955 after feeling the pressures of the Senate Subcommittee of Juvenile Delinquency, but has since been reprinted in various formats; The series has also been revived for new comic books, several times. Tales From The Crypt has also had several movies and a television series based on it.
Reprints
[
]
Tales from the Crypt has been reprinted by various publishers such as Gladstone, East Coast Comix, Gemstone, Fantagraphics Books, and Dark Horse Comics.
Television and Film Adaptations  

[

]
In the 1970s, Amicus Films produced a Tales From The Crypt movie based on stories from the various EC horror titles.
A live-action television series based on stories from the EC horror comics originally ran on HBO from the mid-1980s until 1996. The HBO TV series has since had several film spin-offs, including Bordello of Blood, Demon Knight, Ritual, and the filmed but unreleased "Fat Tuesday".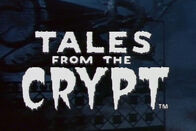 In 2016, it was announced that M. Night Shyamalan would be producing a separate series based on new stories, and stories from the original comics for TNT; However, this reboot of the Tales from the Crypt TV series, due to various rights issues, never came to fruition. The series was originally rumored to be a series-long story arc, similar to American Horror Story, and rumored to be based around a script that dealt with voodoo in New Orleans.